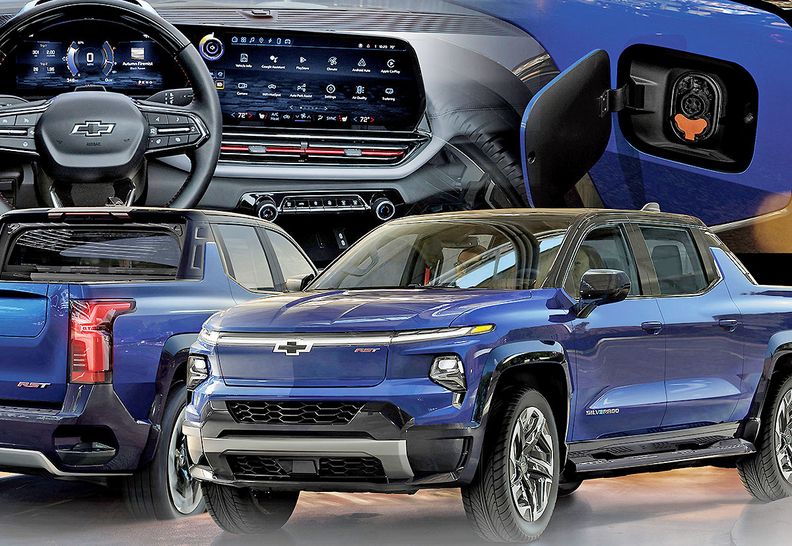 The trend nowadays has been who's coming out with the next electric vehicle?? As we know about Silverado's EV release that is supposed to be in the summer of 2024 may now be pushed back another year to 2025. General Motors may not be able to keep up with the demand due to offering too many new electric vehicles at once.
As of February 22nd, there has already been over 110,000 reservations (I'm one as well), including more than 240 fleet owners. There is a huge excitement for the Chevy Silverado EV Work Truck (WT). In fact, the Silverado EV First Edition sold out in 12 minutes! There hasn't been a revealed number of how many reservations have been made for the First Edition, but that doesn't mean customers still can't put in a reservation. The WT and RST models are still available to reserve. Like the
Ford F-150 Lightning
, it is only a $100 deposit that will go through a local dealership of your choice. The WT will be available to fleets in the Spring of 2023 and the Rally Sport Edition will be available in the fall.

GM to increase EV production by a significant amount​
According to a
story in Reuters
, Barra addressed investors recently and promised a big increase in the company's EV production. Barra said GM is planning to produce 400,000 EVs in North America during 2022 and 2023. That sounds like a big number, and it is, but it may not help the Silverado EV turnaround time.
If in fact, there are 100,000+ reservations, that would mean 25% of the entire EV output would have to be dedicated to Silverados, and that doesn't seem feasible. Assuming that GM can produce 50,000 Silverado EVs by 2023, that would leave half of the reservations unfulfilled by the end of next year.
If they can triple that output to 150,000 units by 2024, that would mean that most, if not all the pre-orders for the Silverado wouldn't arrive until late 2024 or early 2025. And that doesn't take into account additional orders, dealer deliveries, etc.
Ford ran into the same issues with the launch of the
Ford Bronco
— and that's not even electric.
GM has a multitude of EV products including the
GMC Hummer
,
Cadillac Lyric
and Chevy Bolt. And there's the upcoming
GMC Sierra EV
, too. Increasing production is good and obviously needed, but spread out over several vehicle production lines, won't accelerate the Silverado EV in time to keep up with demand.
​
1 million EV products by 2025​
A statement from General Motors said: "As we have said, we have announced battery cell and assembly capacity investments that will give us more than 1 million units of EV capacity in North America by the end of 2025."
According to information from Reuters, production of the all-electric Cadillac Lyriq is expected to increase to 25,000 units this year (up from 3,200). GMC Hummer EV production is expected to increase to 21,000 units (from 3,800), and after it was shuddered due to a battery recall issue, the Chevy Bolt is back in production as yet another EV.
Then there was the head-scratching news that GM would squeeze out
EV versions of the Equinox and Blazer
before the Silverado EV.
There are around 50,000 reservations already for the Hummer EV and the aforementioned 110,000 reservations for the Silverado EV. Even with the increases mentioned, that still puts GM behind the curve in demand versus output.
Hard to think customers will want to wait for another 3 years to get the Silverado EV, when there will be other out long before GM produces their 1st truck. I guess that maybe its a way GM can see what to improve on from the competition's pros and cons.